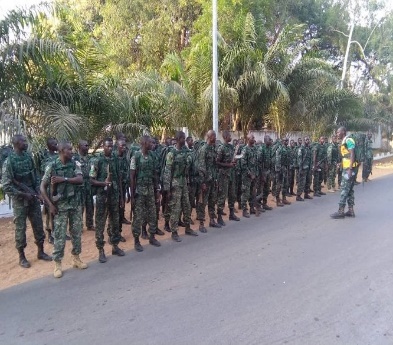 The Gambian Army has informed the public that the 1st Infantry Battalion of its staff Yundum Barracks has started a fitness exercise.
"The defense headquarters camp and the barracks of the 1st Yundum Infantry Battalion on Wednesday February 3, 2021 start the CFT and BFT respectively. The CFT is a form of test / exam that every officer / soldier is required to undergo annually after passing their Basic Physical Fitness Test (BFT).
"This mandatory annual test is performed in accordance with the training guidelines of the Chief of the Defense Staff. It is made to assess the physical strength, agility, endurance and combat ability of each active GAF member in the khaki uniform. The success of this test shows that the individual is ready to assume all the military activities that he can be asked to do.
However, a precursor to this is a Basic Physical Fitness Test (BFT) which involves running without wearing speed for a total distance of 5 km; 2.5 km one way and 2.5 km return to the starting point. The return to the starting point of 2.5 km is timed in 10 minutes for personnel under 25 years old. The times allowed to pass the fitness test, however, vary by age and gender. Running is one aspect of BFT; Push-ups, squats, pull-ups and other physical exercises are also tested to assess the fitness of the GAF officer / soldier, "the army statement read.
The statement added: "Unlike the BFT, the CFT is a 12 km race (6 km outside / 6 km in the back) carrying individual rifles and a backpack weighing up to 15 kg on the back. of the individual. Participating troops in full combat order would run and march the 12 km with schedules ranging from 1 a.m. to 1:30 a.m. depending on the unit conducting the exercise.

Publication displays:
269